In another lifetime, I was a bus driver. In one of my IDF reserve operations I met Avi Soffer who told me he is a jewelry designer. The idea of designing jewelry seemed magical to me because driving a bus was surely not my destiny. So, two years after I heard Avi is a jewelry designer I asked him to follow up with the invitation to see him at his studio and so I did. As I was standing at the door of the Tel Aviv apartment I saw pieces of jewelry laying on towels and waiting for Avi to inspect those before shipping to Germany, that moment I knew that this is what I want to do. Avi gave me a phone number for Omanuyot School in Jaffa and this is how my relationship with the world of jewelry began.
I was a young dad, 29 years old, when I started jewelry making school in Jaffa. I studied two years taking both morning and evening courses, so I could complete the three-year course in just two years. I was fascinated by making jewelry and picked up the techniques quickly and with a lot of love. Soon enough I had a place in Givaat Shaul, which was relocated to the Jewish quarter after a short while. I joined Nahum Arbel the painter who was absent most of the time as he was living abroad, this way, I was selling his art as well as working on mine. You acquire your skills as a jeweler only after you learn how to become one and I was still fighting to put food on the family's table during those years of becoming a jeweler. I was determined to be good and so I was evolving both technically and artistically, as for the latter, I think if you are born an artist, you are one.
One day, during a long struggle to keep my head over water as a jewelry business, a couple came in, she was much younger and had a rock size diamond on her hand, I needed the business but they ended up saying "we'll think about it" as they were walking out. Trying to keep them in the studio I remembered a story about Gam Ze Yaavor which was told to me in short by a Habbad guy. "wait, wait, I have a story to tell you". I asked them to sit down and started improvising over the story I heard two days ago. By now, I completely forgot if they ended up buying anything but at that moment, the Gam Ze Yaavor story was born and with it a whole new future direction for my business.
At first, I was just engraving the Gam Ze Yaavor on simple rings the Yeshiva Girls used to buy all around the markets, to keep the customers coming back regardless, I started looking for other stories to add to the growing list of stories I was telling, I've become an official storyteller.
When the second intifada almost wiped all my business away I asked two of the Yeshiva Girls "what if I to make the rings, how much can you pay?" they said they can pay 100NIS ($25), so I sized their fingers on the spot, then made and engraved two rings. The next day, the whole class was at my studio, waiting in line to get their fingers measured and rings made. At the end of the day I was left, eyes tearing, with $500 in my hand. That money was much needed for my family.
After a month of engraving Gam Ze Yaavor, one of the girls asked "can you engrave something else for me?" and today 95% of our business is just that :)
Over time, I learned and developed my own engraving techniques, using better and better equipment. Looking back, I was a definite student of engraving and today I have mastered that art as well. The other part I developed was my understanding of the bible and holy texts, as I'm not a religious person but still appreciate wisdom, I started memorizing many of the lines as well as look for smart and meaningful new lines, eventually coming up with my own sayings as well.
Our simple, yet elegant Yeshiva designs turned into a complete line of Bracelets, Rings, Necklaces and other Accessories.
Nowadays, demand is higher than I can handle by myself and there is a whole "Team Hadaya" around me. I had students of my own who learned the production process and engraving techniques and are now working with me, making our designs with love, personally customizing it for each customer.
So today, I feel truly blessed as this family business created an even bigger family, all work together to create and design one of a kind meaningful pieces of jewelry for our customers.
Baruch passed away in late 2017, Hadaya was his biggest legacy and we will all continue to walk in his path of spreading love in grace. Team Hadaya
One of a kind Pieces
Just for fun or as a creative challenge, I make these unique pieces .... one at a time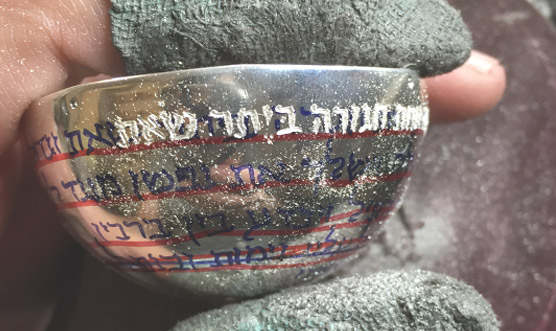 The Dreidel
"When the mornings in the old city get chilly, I know it's time to start thinking about the Dreidel I'll make for Hanukka this year."